Instruments
DS2®
---
The DS2 is a fully-automated, 2-plate processing system that is capable of performing multiple assays per plate.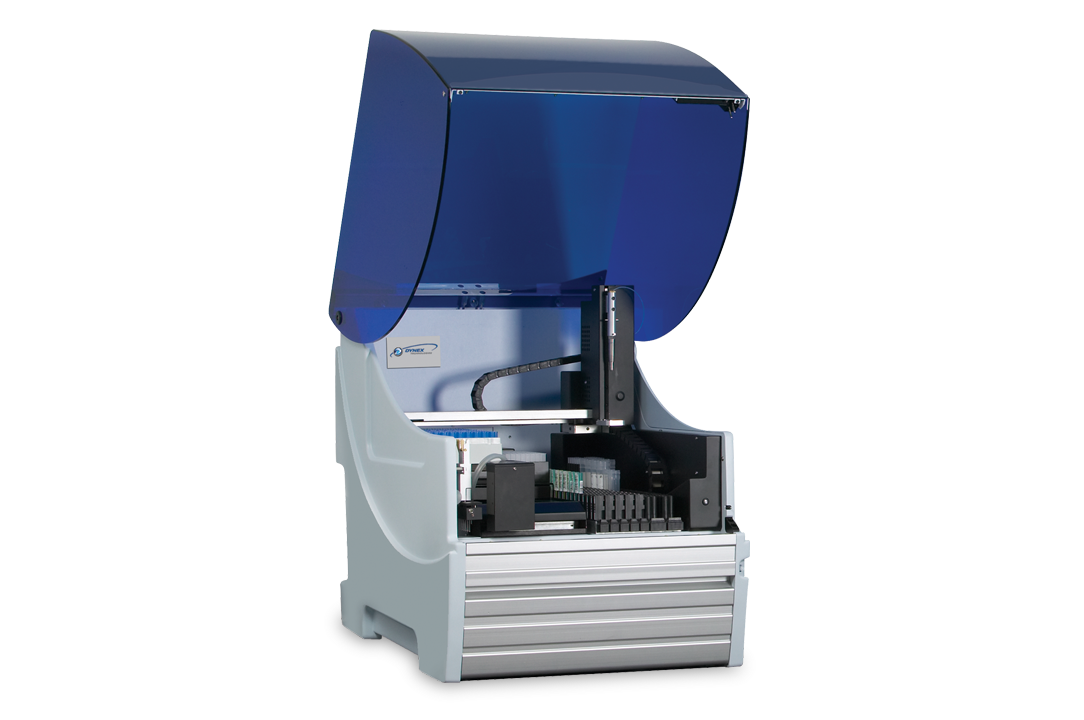 Compact, Easy to use, Intuitive, Flexible and Innovative are some of the characteristics of DS2
---
DS2 is a fully automated microplate immunoanalyser designed for small- medium laboratories.
2 microplates are processed simultaneously with up to 24 tests in one profile. Automation of sample dispensing with disposable tips, reagent dispensing, microplate washing, incubations (time and temperature), photometric reading and data reduction.
HIGHLIGHTS
MAKES AUTOMATION EASY

Designed with full walkaway capability

Processing of two 96-well microplates and up to 12 different assays simultaneously.

Multi-function robot arm that does everything from pipetting to operating the barcode reader.

Installation, programming, assay set-up and daily maintenance are all designed to keep you focused on your results, not on the instrument.


DELIVERS SAMPLE-IN/RESULTS-OUT AUTOMATION

Sample dilution and distribution

Incubation, washing and reagent dispensing

Reading with automatic data reduction and quality control

Automatic barcode scanning DS2 has the comprehensive capability needed to ensure the rigorous, repeatable analysis required to deliver the most accurate results.


MINIMAL FOOTPRINT WITH MAXIMUM CONSUMABLE STORAGE

216 sample tips

96 dilution vessels in convenient 8-way strips

20 reagent tips

8 large and 10 medium reagent bottles

24 standard/control bottles bioelisa

INTUITIVE, EASY-TO-USE DS-MATRIX SOFTWARE

DS-Matrix software powers DS2 allowing for rapid integration of this automation in the lab. The simple, graphical interface of DS2 can be operated by any lab technician with minimal training

WORRY-FREE SYSTEM ASSURES ACCURATE RESULTS

Programable audit alarms and/or an email outlining the problem

Integrated self-diagnostics make troubleshooting easy

Contact Us
---
Contact us directly using the below, or by filling out the form.
sales.uk@werfen.com
Tel: 01925 810 141 - Option 6
orders.uk@werfen.com
Tel: 0800 102 6342
service.uk@werfen.com
Tel: 01925 810 141 - Option 1