Systems
QUANTA-Lyser® Family
---
Flexibility meets efficiency.
---
QUANTA­Lyser is a fully automated platform that provides your lab with the flexibility to alternate between EIA and IFA testing as needed, for improved efficiency. Washable probes help reduce operating costs associated with disposable tips.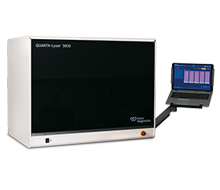 QUANTA-Lyser® 3000
QUANTA-Lyser 3000 is a high throughput EIA/IFA that give you the ability to complete your workload faster with less hands-on time.
Compatible Reagent Families
---
ELISA reagents covering a broad range of autoimmune diseases and conditions.
Contact Us
---
Contact us directly filling out the form below.
enquiries-au@werfen.com
Tel +61 2 9098 0200