reagents
Accuracy combined with consistency.
---
The QUANTA Lite family of reagents is designed for ease­of­use for manual and automated systems, with consistent incubation times and many common components.
Reagents
---
Calibration Standards & Sets
*Only available outside of the US
**For Sale in the USA ONLY
QUANTA Link®
Centralize workflow management for your autoimmune IFA, EIA, and CIA testing.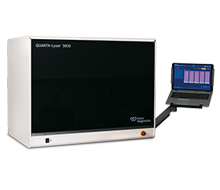 QUANTA-Lyser® 3000
QUANTA-Lyser 3000 is a high throughput EIA/IFA that give you the ability to complete your workload faster with less hands-on time.